Dermot Gillan- Doctor of Chiropractic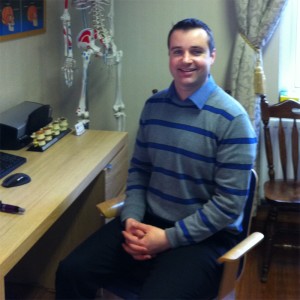 I was born and brought up in Australia, mainly living in the state of New South Wales. Due to my father's job we moved from town to town every few years. Difficult and annoying as it is to be uprooted from newly formed friends at a young and developing age, change can encourage open mindedness , appreciation of diversity and cultural differences.
I feel these early experiences and the necessity to form new friendships, sparked an interest in learning about people, their feelings, needs and concerns. This understanding led to further questions: Why do we believe and do the things we do? How do different lifestyles and environments affect our perceptions and our health? This outlook directed me towards, learning more about the healing arts. I remember at 14 years of age knowing I wanted to learn more about the body and how it worked. I followed a physiotherapist around in his practice in Gosford N.S.W for work experience. This further fuelled my desire to learn about the health of the body but also I witnessed the benefits to improving a person's health. I'd seen the satisfaction it brought to the practitioner and the patient; I knew this was a path I wished to explore further.
At 16 years of age my family and I moved continents from Australia to the Emerald isle. Culture shock. Lifestyle change. New friends. New life! At this age during all my new founded upheaval we were asked to think about our future careers. Luckily I knew that I had a strong interest in the healing arts, but the question of what field to focus on was the head scratcher. I looked into physiotherapy, medicine, occupational therapy and dentistry. During this time a friend of mine who played to a high level of football, came to me with a prospectus his team chiropractor had given him as a potential career. Knowing I had an interest in this area he allowed me to take it home to study. I was hooked. Words like: holistic, total body care, healthcare of the future, optimised function, enhanced movement, self-employment, job satisfaction all jumped off the page. Unfortunately this was pre internet days (for me anyway) in 1994, so access to learning more about chiropractic was limited to the library. However, on discussing what is chiropractic? With my parents I was very surprised to hear that my father had been to chiropractors in Australia. I learnt that my dad after years of working on construction sites had developed two disc bulges in his lower back. After an array of treatment from physiotherapists, G P's and massage therapists to treat his severe sciatic pains was on the verge of needing to stop or change his work or end up in a wheel chair! It was apparently at this low point he went to a Chiropractor after 2-3 month of treatment my father was back to work with no sciatic or back pain. This for me was obviously a very strong testimonial for the profession. It is at this point I decided to choose the wonderful world of Chiropractic as my future career!
The Chiropractic College was located in Bournemouth, Co. Dorset and it had the reputation of being the best Chiropractic College in Europe. It was a five year course incorporating the study of anatomy, physiology, biochemistry, biomechanics, chiropractic skills, radiography, clinical management and much more. The course was hard work, intensive, in depth and in the 5th and final year we got the opportunity to treat and manage patients in our very own clinic, situated on the grounds of the campus. This hands on; patient centred experience was a good way of preparing me for life as a chiropractor. Graduating in 2002 armed with up to date clinical skills, techniques and evidence based knowledge I began my career in the north of England. In Newcastle I was fortunate to work with The Geordies (Newcastle folk) and the Mackems (Sunderland folk.) After my 1st year in practice I was approached by a chiropractor from a different clinic, a successful clinic, the most well-known clinic in Newcastle. His speciality was a technique called Sacro Occipital Technique (S.O.T) he was an advanced instructor with this technique and president of the organisation. I jumped at the chance to learn more, and worked with him for a further 3 and ½ years reaching advanced certification in that time, S.O.T is a holistic approach to human health. It was at this point I had recently met an amazing woman from County Fermanagh, who would become my future wife. I chose to move back to Northern Ireland to begin my own practice, it was time.
I opened Omagh Chiropractic in 2006, It was a big task, the initial renovation project required a lot of help from friends and family. It was a great privilege and honour to begin serving the Omagh community. The clinic was a success, to the point where we could purchase our own premises….next door to the original clinic!! In 2011 we renovated our new building which we now reside in today. I am very proud of our achievements so far, word of the clinic and the benefits chiropractic can give is spreading on a continuous basis. Please browse our website, check out what we are all about. If you feel we could help you please don't hesitate to call us on 028 8225 9181, I would be happy to help you with improving your health and well-being.